Our ayurvedic doctors and masseurs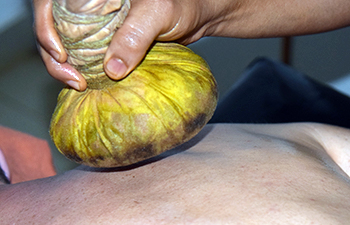 The ayurvedic doctors at the Arya Ayurvedic Panchakarma Centre advise each patient on diet, daily routine, and ayurvedic herbal medications. The treatments are customized and adapted daily for the individual needs of every single patient. You will have opportunity to approach our doctors, ask them questions and discuss with them any problems concerning your treatment at any time during your stay.
Our experienced masseurs (both males and females) have mastered all traditional ayurvedic massage and panchakarma manipulations. They follow the instructions for the treatment, which is provided daily by the supervising ayurvedic doctor. The treatments include oil bath, abhyangam (snehana), herbal steam bath (swedana), pouches (navarakizhi, poodikizhi, and elakkizhi), powder (udwarthanam), various vasti, treatment with herbal paste (lepam), traditional Kerala foot massage, as well as specialized treatment techniques for a variety of particular health problems usually performed by our doctors.